If you are in the multifamily apartment business, you know this drill:
A resident drops by the office, calls in, or logs into their resident portal to report an issue. When they can get to it, a staff member promptly logs the issue into their property management software, creating a work order for the service team or trusted vendor tasked with performing the repair. The next step?
    Print; 2 copies
For the vast majority of owners and operators, technology stops at the printer. The rest of the process is pretty much without it.
And why not? This practice is tried and true, it's been done this way for years and everyone involved understands it. Besides, the industry hasn't necessarily been on the cutting edge of technology and neither has the vendor community.
Times are Changing
The multifamily industry hand is being forced because resident's expectations concerning technology is shifting. IT analyst firm Gartner is predicting 25+ billion devices will be connected to the cloud by 2020. For apartment dwellers, think smart speakers, lighting, thermostats, home security devices.
Renters are attracted to this technology for convenience, ease-of-use and immediate access to services. In fact, in a 2017 survey of Apartment Property Managers by Software Advice, respondents indicated that investing in, publicizing and/or incentivizing with smart home features appeals to all types of renters.
This directly translates to apartment services. Residents are expecting even better, more immediate, services from their landlords.
So where does a multifamily operator start?
Applying Technology to Apartment Maintenance
Did you know that the average apartment operator processes 50 resident work orders per month for every 100 managed units? Aside from collecting rent, maintenance is how you interact with your residents the most!
By mobilizing resident repair requests – i.e., digitally routing work orders to a technician or vendor smartphone via an app – apartment operators can benefit in a number of ways. Here are 4 of those ways:
1. Efficiency: The first reason to go mobile is that it provides greater efficiency by eliminating wasted time getting the work order to the right person in order to perform the service. Real time push notifications alert maintenance techs and vendors, allowing them to begin mentally preparing for the work before they head back to the maintenance office.
Users of these systems generally experience a 20% improvement in service cycles (the elapsed time from when a resident calls-in, to when their service is completed). In today's on-demand society, getting work done faster significantly increases the chance of customer satisfaction.
2. Positively Communicate & Engage with Residents: Most apartment operators strive to, but fall short of, following-up with every resident upon completion of service. What if this follow-up happened automatically? A well-rounded mobile maintenance system can take care of this for you.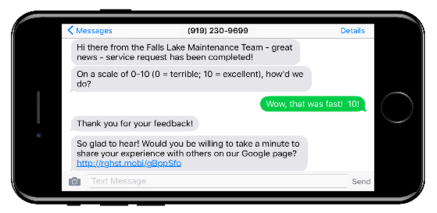 Mobile maintenance systems can send automated text messages to residents when their service request has been marked "complete" by the technician or vendor. And text messaging is the perfect technology to reach residents because they are almost always read.
"80% of Americans text regularly and 90% of text messages are read within the first three minutes" – Nexmo    
3. Online Reputation Management: By implementing a mobile maintenance system, apartment operators can actually generate organic positive reviews. These systems can instantly survey the resident via text to see how they feel about the service provided. Residents who have good experiences are asked to share them at ApartmentRatings.com, Google, Facebook or elsewhere.
Response rates can also be boosted through incentives like gift cards or drawings. Negative experiences are kept in the private confines of the text message so issues can be addressed prior to leaking out in an online review. The best part? This process is completely hands-off for the apartment management staff so they can focus on leasing and other resident service efforts.
4. Visibility & Reporting: The last reason to implement a mobile maintenance solution is the visibility and reporting these systems can provide. Maintenance operations is an area of significant operational and capital spend for apartment operators.
But outside of insights gained via the balance sheet, very little real or near-
time data has traditionally been available to help apartment operators evaluate how their maintenance teams are performing, how efficient their vendors are, and maybe most importantly, how residents feel about where they live.
By digitizing work orders, transaction data is captured: time stamps, photos, comments, resident responses, etc. This data is extremely valuable in helping multifamily operators keep their maintenance departments operating efficiently and effectively.
At ServusConnect, we are committed to helping multifamily operators experience these benefits through our maintenance automation platform. The ServusConnect platform can plug into any manual operation and work in conjunction with existing work order systems to instantly mobilize operations. Schedule a demo today.